Monday, 07 October 2019
by admin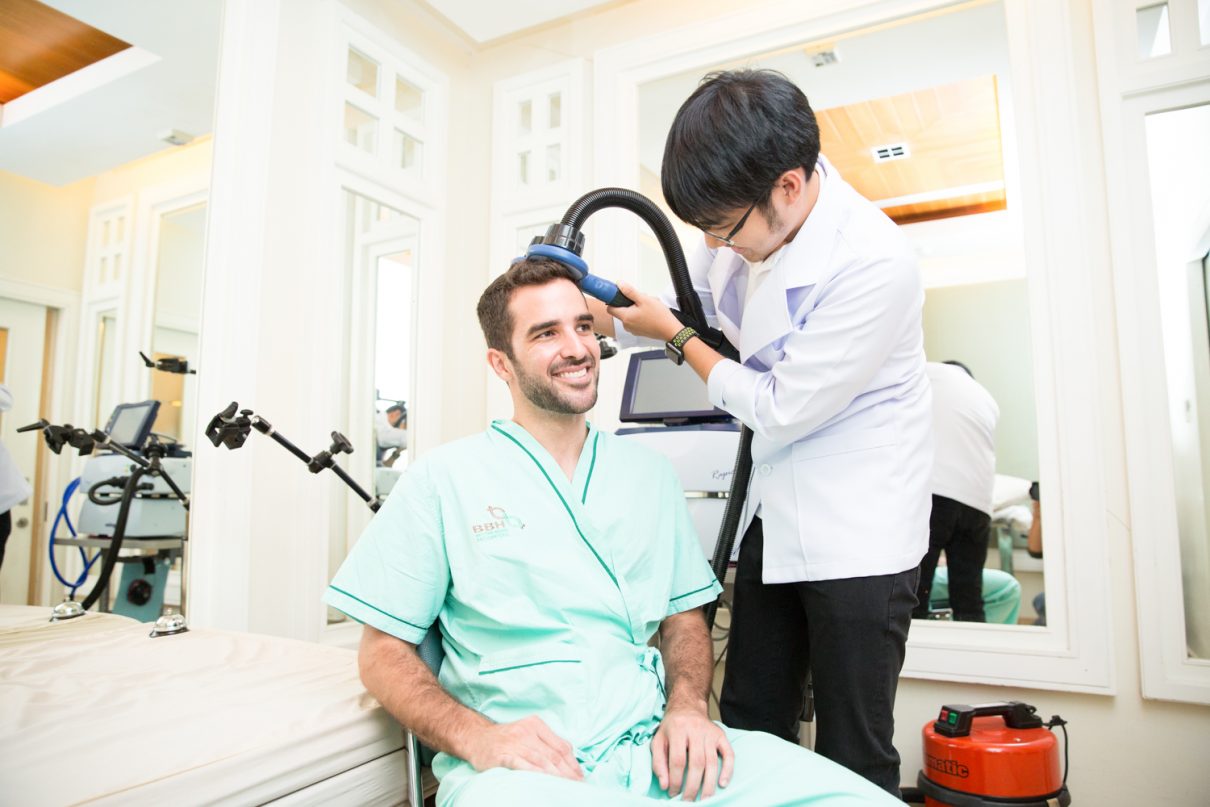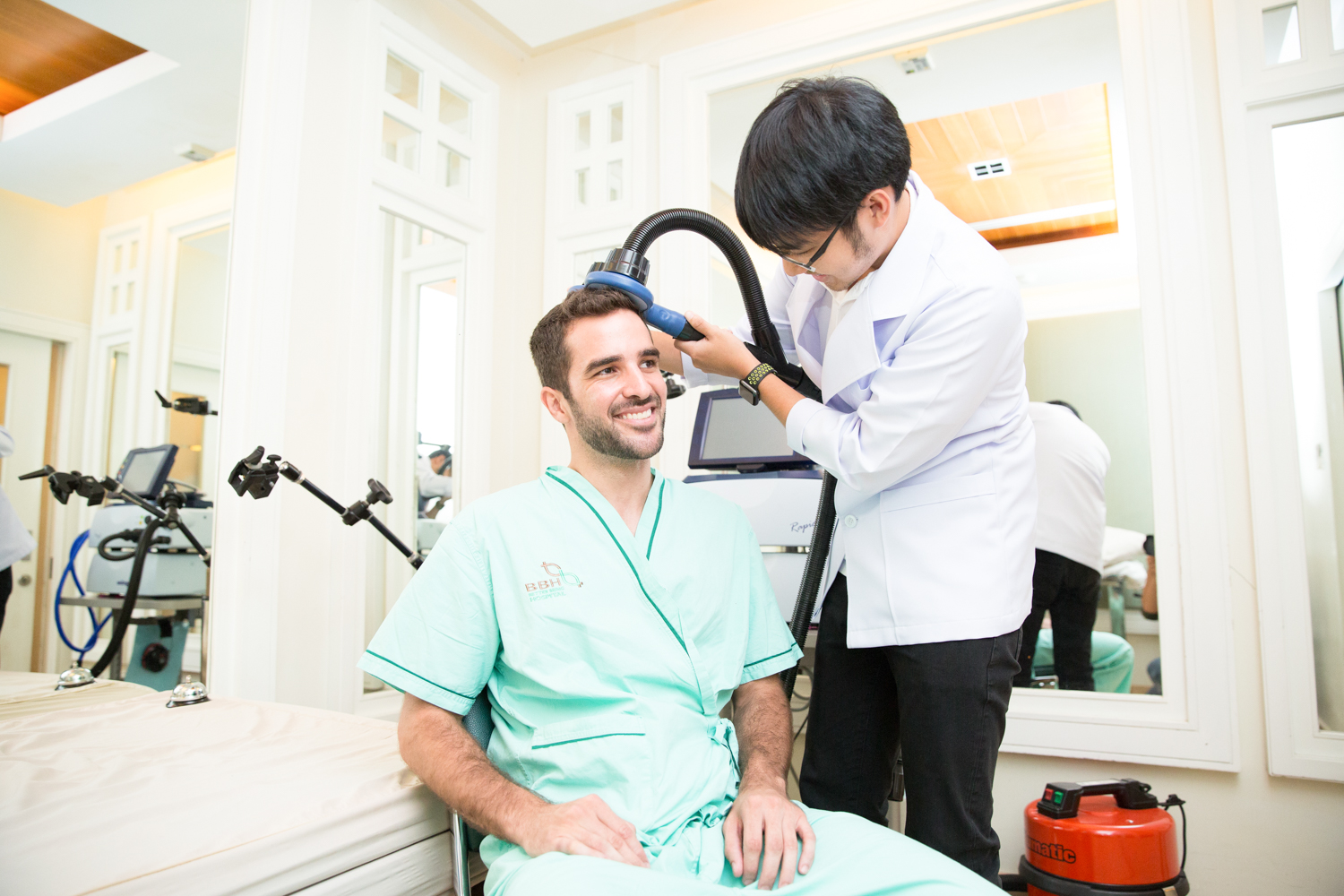 Traumatic Brain Injury
Traumatic brain injury usually results from a violent blow or jolt to the head or body. An object that penetrates brain tissue, such as a bullet or shattered piece of skull, also can cause traumatic brain injury.
Mild traumatic brain injury may affect your brain cells temporarily. More-serious traumatic brain injury can result in bruising, torn tissues, bleeding and other physical damage to the brain. These injuries can result in long-term complications or death.
Symptoms
Traumatic brain injury can have wide-ranging physical and psychological effects. Some signs or symptoms may appear immediately after the traumatic event, while others may appear days or weeks later.
Mild traumatic brain injury
The signs and symptoms of mild traumatic brain injury may include:
● Physical symptoms such as Loss of consciousness for a few seconds to a few minutes, No loss of consciousness, but a state of being dazed, confused or disoriented, Headache, Nausea or vomiting, Fatigue or drowsiness, Problems with speech, Difficulty sleeping, Sleeping more than usual, Dizziness or loss of balance
● Sensory symptoms such as Sensory problems, Sensitivity to light or sound, Cognitive or mental symptoms, Memory or concentration problems, Mood changes or mood swings, Feeling depressed or anxious
Moderate to severe tr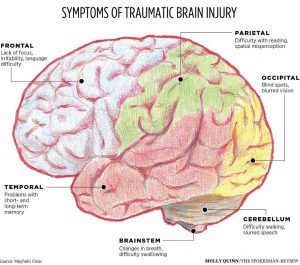 aumatic brain injuries
Moderate to severe traumatic brain injuries can include any of the signs and symptoms of mild injury, as well as these symptoms that may appear within the first hours to days after a head injury.
Children's symptoms
Infants and young children with brain injuries might not be able to communicate headaches, sensory problems, confusion and similar symptoms. In a child with traumatic brain injury, you may observe change in eating or nursing habits, unusual or easy irritability, persistent crying and inability to be consoled, change in ability to pay attention, change in sleep habits, seizures, sad or depressed mood, drowsiness, loss of interest in favorite toys or activities
Causes
Traumatic brain injury is usually caused by a blow or other traumatic injury to the head or body. The degree of damage can depend on several factors, including the nature of the injury and the force of impact. Common events causing traumatic brain injury include falls, vehicle-related collisions, violence, sports injuries, explosive blasts and other combat injuries
Risk factors
The people most at risk of traumatic brain injury include:
● Children, especially newborns to 4-year-olds
● Young adults, especially those between ages 15 and 24
● Adults age 60 and older
● Males in any age group
Complications
Several complications can occur immediately or soon after a traumatic brain injury. Severe injuries increase the risk of a greater number and more-severe complications including;
● Altered consciousness
● Physical complications
● Intellectual problems
● Communication problems
● Behavioral changes
● Emotional changes
● Sensory problems
● Degenerative brain diseases
Surgical Lesions
When discussing TBI, the term "mass lesion" is often used. This refers to an area of localized injury that may cause pressure within the brain. The most common mass lesions related to TBI are hematomas and contusions. Furthermore TBI includes diffuse injuries and skull fractures.
Diagnosis
Like all trauma patients, persons with TBI need to undergo a systematic yet rapid evaluation in the emergency room. Cardiac and pulmonary function is assessed first. Next, a quick examination of the entire body is performed, followed by a complete neurological examination. The neurological examination includes an assessment utilizing the Glasgow Coma Scale (GCS). In addition to the GCS, the ability of the pupils to become smaller in bright light is also tested and also brainstem reflexes including gag and corneal (blink) may also be tested.
Radiological Tests
A computed tomography scan (CT or CAT scan) is the gold standard for the radiological assessment of a TBI patient. A CT scan is easy to perform and is an excellent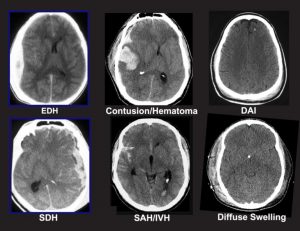 test for detecting the presence of blood and fractures, which are the most crucial lesions to identify in medical trauma cases. Plain x-rays of the skull are recommended by some as a way to evaluate patients with only mild neurological dysfunction. Magnetic resonance imaging (MRI) is not commonly used for acute head injury. However, after a patient has been stabilized, MRI may demonstrate the existence of lesions that were not detected on the CT scan. This information is generally more useful for determining prognosis than for influencing treatment.
Surgical Treatment
Many patients with moderate or severe head injuries are taken directly from the emergency room to the operating room. In many cases, surgery is performed to remove a large hematoma or contusion that is significantly compressing the brain or raising the pressure within the skull. After surgery, these patients are usually observed and monitored in the intensive care unit (ICU).
Medical Treatment
At the present time, there is no medication or "miracle treatment" that can be given to prevent nerve damage or promote nerve healing after TBI. The primary goal in the ICU is to prevent any secondary injury to the brain. The "primary insult" refers to the initial trauma to the brain, whereas the "secondary insult" is any subsequent development that may contribute to neurological injury. For example, an injured brain is especially sensitive and vulnerable to decreases in blood pressure that might otherwise be well tolerated. One way of avoiding secondary insults is to try to maintain normal or slightly elevated blood pressure levels. Likewise, increases in ICP, decreases in blood oxygenation, increases in body temperature, increases in blood glucose and many other disturbances can potentially worsen neurological damage. The prevention of secondary insults is a major part of the ICU management of head- injured patients.
Outcome
One of the most widely used systems to classify outcome from head injury is the Glasgow Outcome Scale (GOS). Patients with mild head injury (usually defined as GCS score on admission of 13-15) tend to do well. They may experience headaches, dizziness, irritability or similar symptoms, but these gradually improve in most cases.
Patients with moderate head injuries fare less well. Approximately 60 percent will make a positive recovery, and an estimated 25 percent will be left with a moderate degree of disability. Death or a persistent vegetative state will be the outcome in about 7 to 10 percent of cases. The remainder of patients will have a severe degree of disability.
Rehabilitation
Once head-injured patients leave the acute-care hospital, some may benefit from a rehabilitation program. Prime candidates for rehabilitation are patients that had less severe initial injuries or those that have started to show significant improvement. In some cases, further recovery may be expedited by transfer to a rehabilitation hospital or to the rehabilitation service of a large hospital. For more severely injured patients or for those whose recovery is slow, constant vigilance is required to prevent the gradual onset of problems with joint mobility, skin integrity, respiratory status, infection and many other physiological functions. Patients with moderate or mild injuries, as well as severely injured patients who have improved sufficiently, may be candidates for outpatient therapy.
Prevention
To reduce the risk of brain injury you should wear a belt when driving. A small child should always sit in a child seat and install it in the back seat. Also, you should wear a helmet when riding a motorcycle, bicycle or playing sports such as skateboarding, snowmobile, or all-terrain vehicle. To protect the head in the event of an accident.
● Preventing falls can help older adults avoid falls around the house such as Install handrails in bathrooms, Put a nonslip mat in the bathtub or shower, Install handrails on both sides of staircases, Improve lighting in the home, Keep stairs and floors clear of clutter.
● Preventing head injuries in children such as Install safety gates at the top of a stairway, Keep stairs clear of clutter, Install window guards to prevent falls, Put a nonslip mat in the bathtub or shower, Use playgrounds that have shock-absorbing materials on the ground, Make sure area rugs are secure, Don't let children play on fire escapes or balconies.