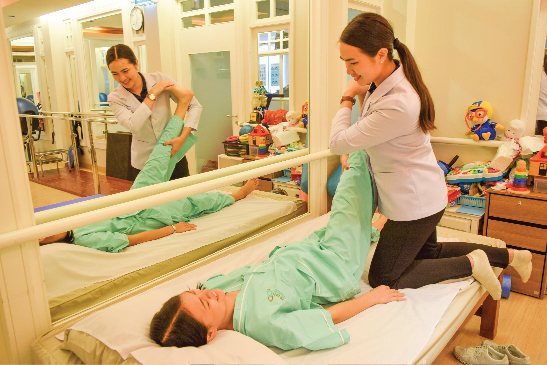 Introduction: Motor neurone disease is a rare condition that progressively damages parts of the nervous system. This leads to muscle weakness, often with visible wasting.
Motor neurone disease, also known as amyotrophic lateral sclerosis (ALS), occurs when specialist nerve cells in the brain and spinal cord called motor neurones stop working properly. This is known as neurodegeneration.
Motor neurones control important muscle activity, such as:
gripping
walking
speaking
swallowing
breathing
As the condition progresses, people with motor neurone disease will find some or all of these activities increasingly difficult. Eventually, they may become impossible.
It's not clear what causes motor neurones to stop working properly. In about 5% of cases there's a family history of either motor neurone disease or a related condition called frontotemporal dementia. This is known as familial motor neurone disease. In most of these cases, faulty genes have been identified as making a major contribution to the development of the condition.
There's no single test to diagnose motor neurone disease and diagnosis is based mainly on the opinion of a brain and nervous system specialist (a neurologist). The diagnosis of motor neurone disease is usually clear to an experienced neurologist, but sometimes specialised tests are needed to rule out other conditions with similar features
Sign and Symptom: The initial symptoms of motor neurone disease often affect certain areas of the body before eventually becoming more widespread.
It's important to visit your GP as soon as possible if you have the typical early symptoms of motor neurone disease. There's evidence that specialist care can improve overall survival.
The symptoms usually follow a pattern that falls into three stages:
the initial stage
the advanced stage
the end stage
Initial symptoms
The initial symptoms of motor neurone disease usually develop slowly and subtly over time. It can be easy to mistake early symptoms for those of several unrelated conditions that affect the nervous system.
Limb-onset disease
In about two-thirds of people with motor neurone disease, the first symptoms occur in the arm or leg. This is sometimes called limb-onset disease. These symptoms include:
a weakened grip, which can cause difficulties picking up or holding objects
weakness at the shoulder, making lifting the arm above the head difficult
tripping up over a foot because of weakness at the ankle or hip
These symptoms are usually painless and may be accompanied by widespread twitching of the muscles (fasciculations) or muscle cramps, and there may be visible wasting of the muscles with significant weight loss.
Bulbar-onset disease
In a quarter of cases, problems initially affect the muscles used for speech and swallowing. Increasingly slurred speech (dysarthria) is usually the first sign of this type of motor neurone disease, and may be misdiagnosed as a stroke.
As the condition progresses, it may become increasingly difficult to swallow (dysphagia), and be misdiagnosed as a blockage in the throat.
Respiratory-onset disease
In extremely rare cases, motor neurone disease starts by affecting the lungs, rather than affecting them at the end of the condition. This is called respiratory-onset disease.
In some cases the initial symptoms are obvious, such as breathing difficulties and shortness of breath.
In other cases the symptoms are less noticeable, such as waking up frequently during the night because the brain is temporarily starved of oxygen when lying down. This can make the person feel very tired and unrefreshed the next morning, sometimes with a headache.
Advanced symptoms
As motor neurone disease becomes more advanced, the differences between the various types of disease are less noticeable as more parts and functions of the body are affected. The rate at which the condition spreads varies, but generally remains the same for an individual (that is, it doesn't speed up, but doesn't slow down either).
Muscular symptoms
The limbs become gradually weaker and the muscles in the limbs may appear progressively wasted. As a result, the person will find it increasingly difficult to move the affected limbs.
The muscles may also become stiff. This is known as spasticity. Both muscle wasting and stiffness can also cause joint aches and pains.
Speaking and swallowing difficulties
At least two-thirds of people with motor neurone disease find that speaking and swallowing become increasingly difficult as the condition progresses. However, although choking episodes can be distressing they aren't the cause of death.
Saliva problems
Reduced swallowing can cause an excess of saliva, sometimes with drooling. Thicker saliva may sometimes be difficult to clear from the chest or throat due to weakening of the muscles that control coughing.
Excessive yawning
Some people with motor neurone disease have episodes of uncontrollable, excessive yawning, even when they're not tired. This can sometimes cause jaw pain.
Emotional changes
Motor neurone disease can lead to changes in a person's ability to control their emotions, particularly when there's weakness in the muscles that control speech and swallowing.
One of the most common signs is when a person has episodes of sudden uncontrollable crying or, more rarely, laughter. Doctors may call this emotional lability or emotionality.
Changes to mental abilities
Occasionally, people with motor neurone disease may have significant difficulties with concentration, planning and use of language. This is known as cognitive change and overlaps with a condition called frontotemporal dementia.
The changes are usually quite subtle, making it difficult to tell them apart from the normal ageing process, and they don't normally affect a person's capacity to make their own decisions.
Up to 15% of people with motor neurone disease develop more profound frontotemporal dementia, usually soon after, or sometimes before, their first muscle-related symptoms. The affected person may not be aware that there are problems with their behaviour or personality.
Breathing difficulties
As the nerves and muscles that help control the lungs become progressively more damaged, the person's breathing will become less efficient.
This may be a feeling of being very short of breath after doing everyday tasks, such as walking up the stairs. However, over time, the person may even become short of breath when they're resting.
Shortness of breath may be particularly troublesome at night. Some people find it difficult to breathe when they're lying down. Others may wake up in the night because of breathlessness.
As motor neurone disease progresses, a non-invasive breathing mask may be recommended at night to improve sleep quality and help reduce drowsiness during the day.
End-stage symptoms
As motor neurone disease progresses to its final phase, a person with the condition will probably experience:
increasing body paralysis, which means they'll need help with most daily activities
significant shortness of breath
Eventually, non-invasive breathing assistance won't be enough to compensate for the loss of normal lung function. At this stage, most people with motor neurone disease become increasingly drowsy before falling into a deep sleep, where they usually die peacefully.
Secondary symptoms
Some people with motor neurone disease have additional symptoms that aren't directly caused by the condition but are related to the stress of living with it. These may include depression, insomnia and anxiety.
Although many people with motor neuron disease may think about ending their life at some point, this isn't a common outcome, particularly with strong family and community support.
Diagnosis: A diagnosis of motor neurone disease relies on interpretation of the clinical symptoms and signs and use of investigations to exclude other causes. A person who presents with a painless, progressive loss of function in a weak, wasted limb or with one of the presentations described above would benefit from a neurological opinion. The lack of a definitive test can cause problems, particularly if patients are seen very early after onset of symptoms, when the signs may be limited. In these cases waiting and observation of the condition over weeks and months are needed. As with other disorders with such a grave prognosis, alternative cause for the patient's symptoms and signs must be excluded. Several conditions can mimic motor neurone disease and may be treatable, and it is important to consider these
Treatment: There's currently no cure for motor neurone disease. Treatment aims to:
make the person feel comfortable and have the best quality of life possible
compensate for the progressive loss of bodily functions such as mobility, communication, swallowing and breathing
For example, a breathing mask can greatly help the symptoms of breathing and weakness, and a feeding tube (called a gastrostomy) helps maintain nutrition and overall comfort. If necessary, medication can be used to help control excessive drooling.
A medication called riluzole has shown a very small improvement in patients' overall survival, but it isn't a cure and doesn't stop the condition progressing.
Read more about treating motor neurone disease
Survival rates
Motor neurone disease is a severely life-shortening condition for most people. Life expectancy for about half of those with the condition is three years from the start of symptoms. However, some people may live for up to 10 years, and in rarer circumstances even longer.
Living with motor neurone disease is extremely challenging and often a terrifying possibility before the diagnosis is made. However, it's not necessarily as bleak as people imagine.
With strong community and specialist support, many people can maintain some independence for a significant part of the condition's course, and experience a quality of life they may not have imagined was possible at the time of their diagnosis.
The end of life for someone with motor neurone disease isn't usually distressing and is most often in their own home. In most cases, a person with the condition will die in their sleep as the end stage of gradual weakness in their breathing muscles. Although some people with the condition will have swallowing problems, they won't choke to death
What Makes our Treatment for Motor Neuron Diseases (MND) Effective?
Since 2005, we have been developing comprehensive stem cell treatment protocols for Motor Neuron Diseases (MND) such as Primary Lateral Sclerosis (PLS) and Amyotrophic Lateral Sclerosis (ALS) to overcome the limitations of conventional therapies. In our protocols, stem cells are combined with specialized therapies for motor neuron diseases that not only focus on helping the patient to cope with their symptoms, but also treat the direct cause of the loss of function by promoting healing of the brain injury. We believe that our comprehensive treatment approach for MND gives our patients the best chances of improvements, allowing for a better quality of life.
What potential improvements after the treatment?
The purpose of the treatment is to promote then healing of the brain injury in order to restore neurological function. Thus, various kinds of improvement are possible after our treatment and our past patients have experienced the following*:
Improved motor function
Improved balance
Better coordination
Decreased fatigue
Increased muscle tone and strength
Lowered tremor occurrence
Better speech and swallowing
Slowed down general disease progression Researchers still do not understand exactly how stem cells might exert their beneficial effects for diseases such as MND.
Studies in animals that model MND have suggested that stem cell transplants are more likely to be effective in protecting existing motor neurones than in actually replacing or repairing them. This might be achieved by using stem cells to replace supporting cells, deliver nourishing substances or dampen down inflammation.
Laboratory studies have investigated various types of stem cells for treating MND, including bone marrow stem cells and neural stem cells. It might even be necessary to use a combination of different types of stem cell therapy to treat MND.