G-FACTOR
G-Factor is a new method of treatment available at BBH, Better Being Hospital. This procedure uses the patient's own blood, deriving high levels of Stem Cell growth factors, Gesolin and other vital components from the blood which can be very helpful to improve orthopedic and skin conditions.
G-Factor is done initially through a simple blood withdrawal. The blood sample will be placed in special tubes with laced with gold particles. The gold particles act on the red blood cells to activate the release of the essential components. These components cannot be derived through ordinary tubes. The blood sample will then go through a special process before it is ready to be given to the patient through injection.
What are the Benefits of G-Factor?
Safe

Highly effective

Efficacy lasts for years
Anti-inflammatory properties
Removes dead cells and slows breakdown of cells
Plays a key role in regeneration of cells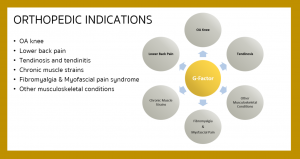 Orthopedic Indications: 
OA knee 

Lower back pain

Tendinosis and tendinitis

Other musculoskeletal conditions
Skin Indications:
Diabetic wound ulcer

Pressure ulcers
skin rejuvenation